Providing African households with affordable electricity
NOTS Solar Lamps improves the lives of African households by providing them with electricity, through a Made-in-Africa MUTIMAX Solar System ('MSS'), consisting of a solar panel, battery, 3 lamps and charger for mobile phone and radio. To make the MSS affordable for also the lowest income households, we offer it for USD 0.60 per week for a 100-week period.
.
NOTS Solar Lamps is a social enterprise, founded in 2010. We started in Mali but unfortunately, we had to close down in 2015 due to the negative effects of the coup d'état in 2012. In 2014 we opened an office and hired a team in Rwanda. In 2019 we entered into an agreement with the Government of Rwanda under which we will set up a factory in Kigali for manufacturing MSS units.
Since most of the 125M African households that currently don't have electricity (they use kerosene lamps and candles for lighting and walk to a kiosk to charge their feature phones) are low income households, we have geared our business model to provide these households with affordable electricity.
The 'top holding' of the NOTS organization is NOTS Foundation, a Dutch charitable foundation, founded in 2003 by Bart Hartman. In 2010, when we started selling and distributing solar systems in Mali, we founded NOTS Solar Lamps BV. In 2014 we started our activities in Rwanda. BBA Solar Loans (Rwanda) Ltd is our Special Purpose Vehicle (SPV) for holding and funding the loans to Rwandan households that can't afford to pay with cash for their solar system.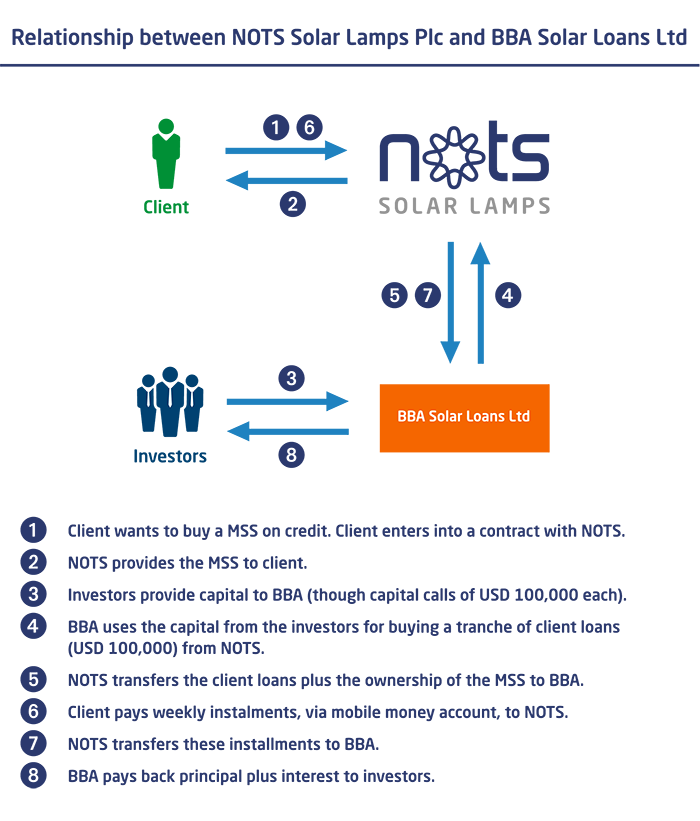 MUTIMAX is the Rwandan brand of NOTS Solar Lamps. 'Mutima' means heart in Kinyarwanda. Currently the product range of NOTS in Rwanda consists of one product: the 3-lamp MUTIMAX Solar System ('MSS'). NOTS sells the MSS for about USD 60, to be paid via mobile money in 100 weekly instalments of USD 0.60 each. Only one product because most of the 1.5M Rwandan households that currently don't have electricity are well served with this MSS. It really improves their lives and it is affordable, even for the lowest income households. The MSS is Lighting Global certified.
MT NOTS Solar Lamps (Rwanda) Plc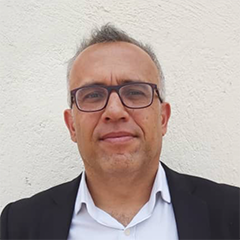 Jean-Marie Bournazaud, CFO
Jean-Marie is a m
ultilingual professional with over 20 years' experience 
as CFO and Controller in
a range of companies in 
Europe, Central and South America
 and 
East Africa
 (over 8 years). He
holds a 
M
aster in 
F
inance from E.S.I.A.E in Paris and Holborn Business 
S
chool in London.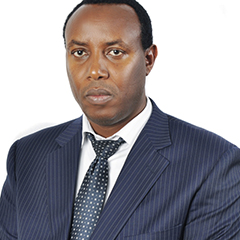 Issa Karamage, Sales Director
Business leader with over 20 years' experience in the public and private sector in Rwanda. 

Issa

 holds a master
's
 degree in Communication Management and a bachelor's degree in Finance & IT from the University of Rwanda. 

Issa

 is founder and CEO of Fidelity Resilient, a consultancy firm focused on advising non-African firms on entering African markets.
Board NOTS Solar Lamps (Rwanda) Plc
Sam Barnett
Sam is a New Zealand national with 25 years of international executive experience. He started his career in management consulting working for PwC in East Africa. In 2002, he joined the MBC group, the largest media group in the Middle East. In 2011 Sam became CEO of MBC and recently he moved to an advisory role. Sam has a first-class degree in Economics from Cambridge University and an MBA from INSEAD.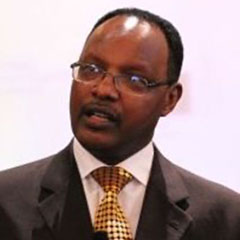 Dr. Albert Butare
Albert is a Rwandan national with over 30 years of experience in the energy, water and communications sector. He is former Minister of State for Infrastructure and Minister of State for Energy and Communication. Since 2010 he has been the CEO of Africa Energy Services Group Ltd based in Kigali. Albert holds a PhD in Energy Policies from Glasgow Caledonian University in Scotland and a Master of Science in Engineering from the University of Flensburg (Germany).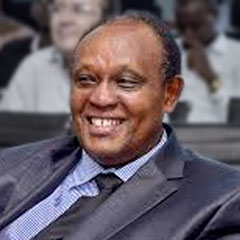 Ignace Rusenga Mihigo Bacyaha
Ignace is a Rwandan national with over 25 years of experience in both development banking and the private sector. For 12 years Ignace worked for IFC, private sector arm of the World Bank Group, in Rwanda and Kenya. Prior to joining IFC, Ignace worked for 13 years in the private sector, particularly in the Aga Khan Group. He holds an Executive MPA from ENAP in Quebec, a Master in Project Management from the University of Quebec and an Engineering degree in Industrial Electronics from the University of DRC.
MT NOTS Solar Lamps (Netherlands) BV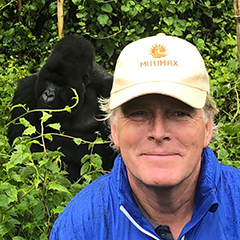 Bart Hartman, Founder & CEO
Bart Hartman is the founder of NOTS Solar Lamps. He started his career as a consultant with McKinsey & Company and then worked as an entrepreneur, transforming and building about 15 businesses, including a successful over-the-counter medical products company. Bart holds an MBA from INSEAD.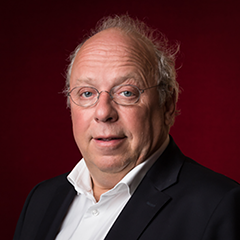 Bas Maassen, CFO

Bas worked for 5 years in management consultancy, 12 years in banking, 13 years in private equity and now for 4 years as entrepreneur and (non-executive) board member at various companies and NGO's. In relation to Africa, Bas is chairman of the supervisory board of Amref Flying Doctors and board member of DOB equity (Dutch impact investor in East Africa). Bas has a masters degree in econometrics.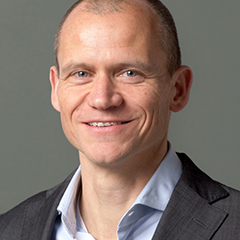 Roland Tabor, Chief Marketing and Data Officer
Roland is an experienced CMO in the Retail and online areas. In the last 4 years Roland worked as a partner of the Data Analytics agency MIcompany. Roland started his career at McKinsey & Company, after obtaining his PhD in Chemistry.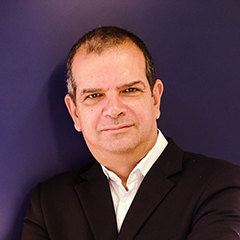 Miguel Stief, Chief Manufacturing & Supply Chain Officer
Miguel, a

 
Brazilian national, has a MBA from Toronto University and Bachelors in Electronic Engineering from FEI University and Business Administration from University of Sao
 

Paulo. During the past 28 years he worked in CEO, Global Business Development Director and Senior VP positions in Philips (USA), NXP Semiconductors (Germany), LiteOn (China) and Positivo BGH (Argentina).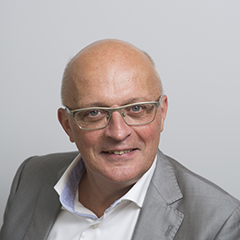 Martin Bauman, Controller
Martin Bauman has worked for 40 years as auditor with PWC in The Netherlands, the last 19 years as partner. His auditing activities  focused on NGO's, social enterprises, education institutions and SME's. He was founder and leader of the NGO-practice of PWC in The Netherlands. Since 2017 he has his own firm for advising NGO's and social enterprises on finance and control related issues.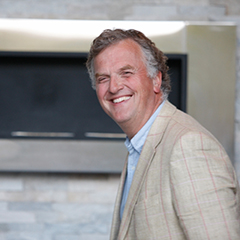 Eric Rahusen
Has had a 27 year career in Investment and commercial  Banking in the Netherlands. He currently holds a number of advisory position with Dutch family offices and Dutch foundations. He is the co-owner of "Saar aan Huis" a company which renders care services for the elderly.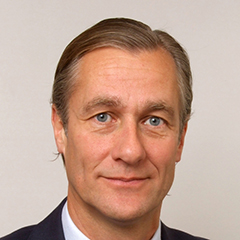 Paul Bijleveld
Paul is a Managing Director at Aké Partners, a corporate advisory firm active in sub-Saharan Africa with local representation in Lagos, Nairobi, Abidjan and Johannesburg. He has 25 years of investment banking experience with Morgan Stanley, Barclays, UBS and ABN Amro and was head of African Investment Banking for Barclays/Absa Capital in Johannesburg.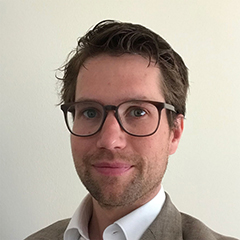 Peter Rutgers
Peter is Director at Waterman Ventures, a technology investment fund. Before that, he worked with Boston Consulting Group for 8 years, where he specialized in Marketing and Sales as well as Corporate Venturing. Peter holds an MSc. in Industrial Engineering and Management, specialized in Product and Process Technology, and he holds an MBA from INSEAD.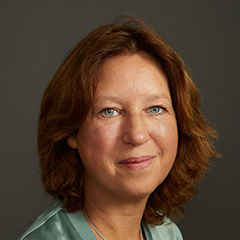 Monique Dolfing-Vogelenzang

Monique serves as the CEO of the PharmAccess Group, an international NGO dedicated to developing inclusive health markets in sub-Saharan Africa through mobile and digital innovations, investments and health financing solutions. During the past 25 years, she has held a variety of senior management and executive positions in both the private and the development sector.
If you are excited about how we work on providing African households with affordable electricity, through Made-in-Africa solar home systems and you think you can contribute something (skills, contacts, capital, etc.), please contact us. Thanks, best regards, Bart Hartman
NOTS Netherlands
Oud-Loosdrechtsedijk 52A
1231 NB Loosdrecht
The Netherlands
T: +31 203 059 108
E: info@nots.nl
www.nots.nl
NOTS Rwanda
Rwanda Foam House
2nd floor
KN1 Road
Muhima, Kigali
Rwanda